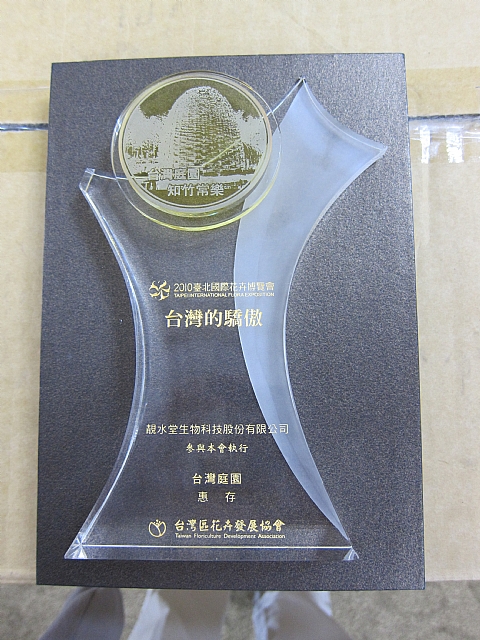 Aleré Agrotech
[ 2013/10/18 ]
The Taipei City Government and Taiwan Floriculture Development Association held the 7th international AIPH certified exposition in Taipei from November 2010 to April 2011. The 2010 Taipei International Flora Exposition attracted over 8,ooo,ooo million domestic and international visitors, not only boosting and promoting Taiwan's horticultural growth, but also promoting Taiwan. As we move into a more industrialized era, green trees and natural habitats are diminishing in our every day lives. With the amount of visitors that were attracted to the Taipei International Flora Exposition, it shows that people still enjoy the natural beauty of the environment and ecosystem.
Aleré Agrotech was honored and proud to represent Taiwan in the Global Garden Area at the Floral Exposition and at the same time showcase its creative innovation in the agricultural field. Using a 20 feet container, we were able to create an artificial environment for the growth of Phalaenopsis Amabilis orchids and Paphiopedilum orchids. Within the container, patented high-performance LED lights were used to mimic a 24-hour cycle from the sun's colors and illumination changes from sunrise to sunset. We used state of the art technological programs to control and simulate four different seasons. All the visitors were able to see that Aleré Agrotech was able to incorporate up to date technology with agriculture, providing products that are non-toxic and friendly to the environment.
With our dedication for clean agriculture practices and love for Taiwan, Aleré Agrotech won the Grand Prize for best design in the Global Garden Area, AIPH Award and most importantly Visitors Favorite Garden Award. We are proud of our achievements and are honored to receive the acceptance of the public for our agricultural practices and we will continue to strive to promote clean, safe and friendly practices to our environment.